How do you commission an artwork when Covid-19 has closed down the world? In 2020 virtual shopping became the "modus operandi."

On May 23rd, a Minnesota couple discovered several of my paintings on my web site and took the bold step towards a virtual commission! They needed a painting for a 48″ x 51″ niche, a focal point in their home's dining/kitchen room.
They sent me photos of this room, as well as photos of adjacent rooms and the artworks complementing them. This virtual photo tour of their home, its color schemes, along with their dreams and vision, began the commission process.
A deposit was determined and I had my Asheville carpenter build the requested 35″ x 38″ panel. By the end of June, the panel was gessoed and the painting could begin.

The clients had already sent themes which were meaningful to them. They also sent me images of my paintings that resonated with them. They had seen the following painting "One Who Came on the Waters of Time," on Biola University's Advent Project '19.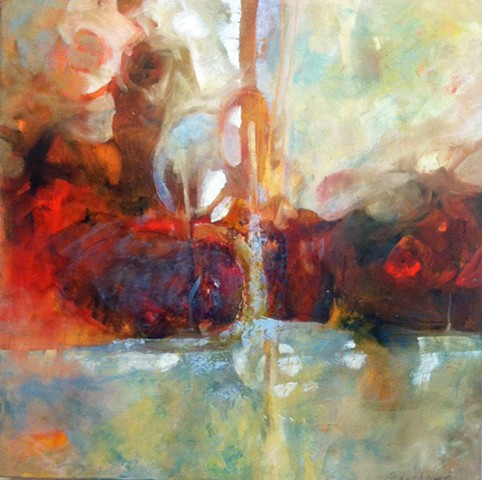 I began reading and studying the many Scriptural themes they gave me to select an idea for their painting.
Shepherd/Sheep — Psalm 23, John 10:10-11
Living Water — John 7:37-8, Isaiah 55:1-3, Ezekiel 47, Rev 22:1-2
Wilderness/Gathering — Isaiah 43:18-21
Light — Isa 9:1-2, John 1:4 and 9:52, Cor 4:6-7
Hope — Heb 6:18-20, Pet 1:31, Cor 13:13
Rest — Psalm 62:5-8, Mt 11:28-30.
This was a daunting process and required much prayer. Providentially about a month later, my Bible study in John drew me to the beauty and importance of Jesus as the Living Water. I had also just finished teaching Revelation, and was also struck by Jesus' final call in the last chapter, "Come. Let the one who is thirsty come: let the one who desires take the water of life without price," Revelation 22:17.
I say providentially, because unbeknownst to me, my client was led to the same theme. In fact, the day before I was to lead the John 4 study, my client emailed me the "exact verses" I was teaching the next day.

"Dear Grace, I wanted to share something that has informed my journey since 2015, when I first read it. It is ALL about water! Have fun reading this, when you have time! Bless you, . . .

Jesus, the Source of Living Water, extends an invitation to All Who Thirst at this high point of the Jewish festival. Jesus dramatically cries out loudly, "If anyone is thirsty, let him come to me and drink (v. 37). If he spoke this invitation during the revelry, he would have to shout just to be heard.

What Jesus offers is the fulfillment of the very things they were celebrating. Here is grace upon grace (Jn 1:16). Here the Son is repeating the offer of the Father, "Come, all you who are thirsty, come to the waters" (Is 55:1). Indeed, he is fulfilling the role of God, who "will guide them and lead them beside springs of water" (Is 49:10). His offer shows he is far more than just a prophet or an agent; here we have God himself offering us life."
(From the IVP Commentary on John 7:37-9 sent to me by my client")
So the Holy Spirit confirmed the chosen theme!

Appalachian Rhapsody in Blues was another of my paintings they were drawn to and it had blues, colors befitting Living Water.
However their color scheme included green and cerulean blue accents, stained glass as well as the blues in adjacent paintings, so I began the commission towards similar blues with an underpainting of reds and golds.
I began layering these complimentary colors to produce a foundational design.

Although the above photo shows the 2 1/2 " edges and is upside-down on my easel, you can see that the blues are warmer and include yellows and reds. The yellows near the top suggest heaven, the source of this Living Water/Spirit of God.

I also began to see a figure with extended arm in the negative shapes at the top of the painting.
It was at this point I needed to get my clients' feedback. I knew they wanted an "incarnational" painting — the suggested figure of Jesus, the Living Water.

We planned a ZOOM call and visited "face to face" for the first time. They shared their desire for more adjustments — more blues to the dark bottom left, as well as deciding if the figure was looking heavenward or inviting the viewer to "come" to the Living Water.
It was back to work!
The complimentary underlying orange-reds were important thematically as well as artistically. They pointed to the purpose of Christ's coming–his death and the importance of blood and water and Spirit, the LIVING WATER.
The clients drove to my Asheville studio in October to pick up their commission. Liz was able to join my oil and cold wax workshop I had planned for that weekend.

What a joy and privilege to meet the clients in person amidst the "social distancing." I am thankful that I was able to create this commission for them and thankful for their trust and input as well.
Soli Deo Gloria